Roy Smeck
Roy Smeck

(1900 - 1994)


1998 Hall of Fame Inductee




Artistry and perfection characterize the ukulele mastery of Roy Smeck. From headlining in vaudeville, to starring in musical screen shorts and recording a lifetime of songs and original compositions, the "Wizard of the Strings" captured the hearts and minds of audiences for more than six decades. He was also a devoted mentor who, through his instruction books, radio broadcast lessons, and private tutoring, fathered a new generation of ukulele players.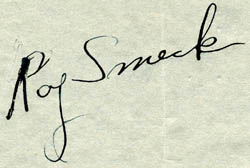 Roy's Signature


Roy Smeck was born February 6, 1900 in Reading, PA. He became a self-made string instrument virtuoso and played banjo, guitar, Hawaiian steel guitar, and ukulele in the vaudeville circuit in his early days. He began issuing records and appearing on Warner Brothers movie shorts during the 1920s, wowing everyone who saw him playing his unique blend of jazz, country, and Hawaiian styles. His amazing style and skill earned him the nickname "Wizard of the Strings".


In the late 1920s, Harmony Company issued a Vita-Uke and several other ukulele, guitar, Hawaiian guitar, steel guitar, and banjo models in a Roy Smeck signature line. He wrote instruction/method books by the dozens for all these instruments and arranged countless tunes for the ukulele. He was a tireless performer who played nearly everywhere and would appear in local music shops along the way for free demonstrations on his Vita-Uke.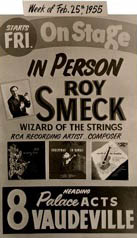 "Vaudeville" poster,
1955



Check from Thomas Edison's Recording Division
To Roy Smeck, 1929


In 1926 he appeared in one of the first sound films ever made by Warner Brothers/Vitaphone. The Vitaphone was a projector/sound machine that synchronized a moving image with an audio disc record at 33 1/3 speed and played from the innermost groove to the outside edge. The first nationally promoted Vitaphone talking picture was "Don Juan," starring John Barrymore, and the production was accompanied by other short entertaining video pieces including one entitled "His Pastimes" featuring Smeck. The "Pastimes" piece made him an instant celebrity and was the beginning of six decades of accomplishments on the banjo, guitar, steel guitar and uke.


Among many notable appearances, one particularly unique performance with with Russ Columbo in That Goes Double (1933), which featured Smeck on a screen divided into four parts, playing steel guitar, tenor banjo, ukulele, and six-string guitar simultaneously.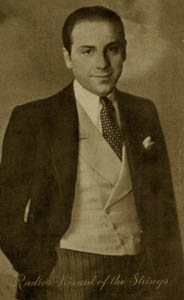 Roy Smeck,
Radio's Wizard of the Strings
advertising card, circa 1930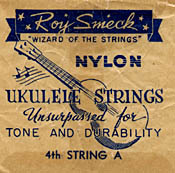 Roy Smeck
ukulele string package


Smeck played at FDR's presidential inaugural ball in 1933; George VI's coronation review in 1937; and toured and played in Scotland, Ireland, Germany, Japan, Iceland, Greenland, Alaska, Canada, Puerto Rico, Korea and, of course, Hawaii. He appeared on TV with Ed Sullivan, Steve Allen, and Jack Paar.


He made over 500 recordings for Edison, Victor, Columbia, Decca, Crown, RCA and others. Many are on 78rpm records, and a good number can be found on LPs. In addition to working solo, Smeck also played on sessions by country greats Vernon Dalhart and Carson Robinson and formed his own band in the 1930s, the Vita Trio. In the 1970s, the reissue label Yazoo released several of Smeck's virtuoso recordings from his early days.


A documentary by Alan Edelstein and Peter Friedman about Smeck and his career, Wizard of the Strings (1985), was nominated for an Academy Award as Best Short Documentary, and won an award at the Student Academy Awards.

Smeck died in 1994 at the age of 94 in New York City.





Advertising sign for the Harmony Roy Smeck model ukulele