Eddie Kamae
Eddie Kamae

(1927 - )


2001 Hall of Fame Inductee




There is perhaps no person who deserves more credit for the popularity of the ukulele in modern Hawaiian music than Eddie Kamae. A premiere ukulele virtuoso since the early 1940s, Kamae played classical, jazz, and other popular music early in his career. He later devoted himself to Hawaiian music, and has led the revolutionary band Sons of Hawaii since 1960. Many of the great Hawaiian ukulele players of the last forty years credit the Sons of Hawaii, and particularly Eddie Kamae, with igniting their love for the ukulele. Kamae has also been the mentor of many great players, most notably ukulele virtuoso Herb Ohta.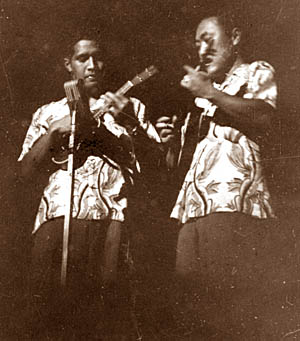 Eddie Kamae and Shoi Ikemi perform
with Ray Kinney's troupe circa 1948



Hawaiian native Edward Leilani Kamae was born in Honolulu in 1927 and has made a life from his talents as an ukulele virtuoso, singer and composer, co-founder of the legendary band Sons of Hawaii, filmmaker, researcher, and key figure in the Hawaiian Cultural Renaissance.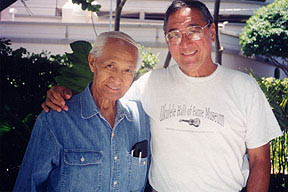 Eddie Kamae and Byron Yasui, 2001


Kamae first learned to play ukulele as a youth when his brother found an instrument on a city bus and brought it home. He made a name for himself as an ukulele player in the late 1940s in Hawaii, teaming up with Shoi Ikemi as Ukulele Rascals at Waikiki Lau Yee Chai restaurant. In the late 1950s, he was the ukulele soloist for Ray Kinney's Orchestra, which performed at the Royal Hawaiian Hotel. In 1960, he organized the Sons of Hawaii, and was joined by slack key guitar legend Gabby Pahinui, steel guitarist Dave "Feet" Rogers, and Joe Marshall on upright bass. Eddie Kamae has been the one constant member of the legendary band, which over the years has included many of Hawaii's finest musicians, including Dennis Kamakahi, Moe Keale, and George Kuo.


Eddie Kamae with his wife Myrna, 2001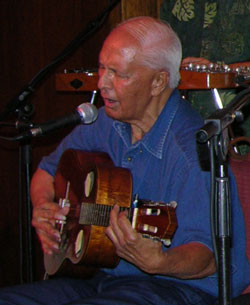 Eddie Kamae performing, 2005


Kamae is a true ukulele virtuoso; he developed new plucking techniques and revolutionized the traditional method of playing the ukulele. He helped to transform the ukulele from a simple background rhythm instrument into one with great potential, commonly used in leads and solos. During the 1980s, while still leading the Sons of Hawaii, Kamae began a new career as a filmmaker. He and his wife Myrna have since produced and directed seven award-winning documentary films dealing with Hawaiian musical and cultural tradition. One of their films, "The Sons of Hawaii: a Sound, a Band, a Legend", documents the legendary group.


Eddie Kamae's impact on Hawaiian music and culture has been recognized and awarded. In 1979, he was designated a "Living Treasure of Hawaii" by the Honpa Hongwanji Mission of Hawaii. In 1987, the Hawaii State Legislature recognized Kamae for his many contributions to Hawaiian music. He is also the recipient of the Hawaii Academy of Recording Artists Lifetime Achievement Award and the Bishop Museum's Charles Reed Bishop Award.