May Singhi Breen
May Singhi Breen

(1895 - 1970)


2000 Hall of Fame Inductee




May Singhi Breen, affectionately known as "The Ukulele Lady", has long been recognized as one of the outstanding exponents of the ukulele. She convinced music publishers of the commercial value of ukulele arrangements and pioneered the inclusion of arrangements on almost all printed copies of popular music. Her own arrangements appear on more pieces of sheet music than those of any other single person in history. She was also a teacher. She recorded the first ukulele instructional record and she is considered the first to teach the instrument in schools. Her instructional books emphasized the solo capabilities of the ukulele with her slogan "Uke can play the melody".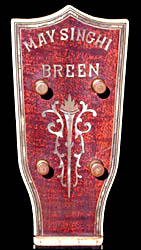 Headstock from a
Martin custom ukulele
made for Breen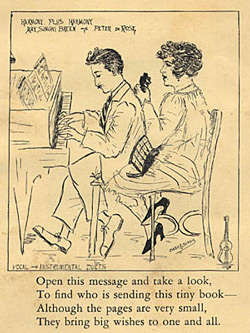 Personal greeting card from
Breen and De Rose, circa 1927



May Singhi Breen was born in New York City in 1895. She received her first ukulele as a Christmas gift, but she didn't know how to play. According to her obituary, she tried to return it to a department store for a bathrobe, but the store wouldn't exchange it so she decided to take lessons. It turned out she was gifted with ukulele playing talent.


She and a few other young women formed an ukulele group, the "Syncopators", who performed on radio. She left the group in 1923 when she met songwriter Peter DeRose, whom she married in 1929. Together they formed a radio show called the "Sweethearts of the Air", which ran for 16 years from 1923-1939. They were wonderful entertainers, and played music over the air with DeRose on piano and Breen on ukulele. She was so popular that P'Mico added an instrument to their ukulele line - the May Singhi Breen autographed model banjo uke.





Logo from Breen's
Uke-Trades Publishing Company



Breen's energy and effort in promoting the ukulele contributed greatly to ukulele history and culture. She taught ukulele in private schools as well as in the studio at her "Uke Trades Publishing Company" in New York City.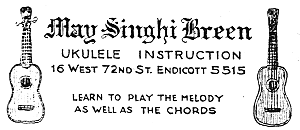 Advertisement, circa 1924




She formed and gave lessons to many ukulele groups because she believed that the instrument's popularity would become more universal by the formation of clubs, but she also emphasized the ukulele as a solo instrument. Her slogan was "Uke can play the melody". Not only was she the first to teach ukulele in schools, but she was the first to record ukulele instruction, on a 78 rpm Victor label record titled "Ukulele Lesson".


When the question arose in the Musician's Union whether or not the ukulele could be classed as a legitimate musical instrument, Breen's efforts convinced the Union to vote in her favor. She then pursued standardization of the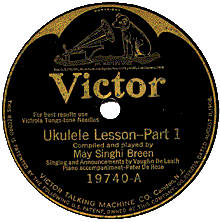 The 1st recorded
ukulele lesson on 78 rpm


ukulele, exemplified by her use of the Universal D Tuning throughout her printed teaching methods and music arrangements. Her published books include song folios with ukulele arrangements from the 1920s and instruction books from the 1950s.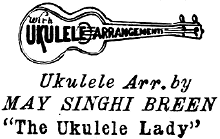 Typical mark found on many
pieces of

1920s era

sheet music




Perhaps Breen's greatest contribution to ukulele history was in convincing music publishers of the commercial value of ukulele arrangements. It was through her efforts that ukulele arrangements appear on all printed copies of popular music. In particular, her own arrangements are found on sheet music more than those of any other single person in history.