Frank Henry Martin
Frank Henry Martin

(1866 - 1948)


2006 Hall of Fame Inductee




The grandson of C. F. Martin, Sr., Frank Henry Martin oversaw the expansion of the family business from a relatively small but highly-regarded guitar maker's shop to a large production factory crafting guitars, mandolins and ukuleles. Under Frank Henry's leadership, C. F. Martin & Co. began full-scale ukulele production in late 1915 and eventually made over 110,000 of the instruments in his lifetime. In addition to pioneering the development of the concert and tenor ukulele, Frank Henry was responsible for the creation of instruments like the venerable Style 0, the Style 3, the 1-T and the legendary 5K. Today, Martin ukuleles made during Frank Henry Martin's tenure are highly prized and remain the standard by which twenty-first century instruments are judged.




Frank Henry Martin, at age 22, held the operation of the Martin Guitar Company in his hands following the sudden death of his father, C. F. Martin Jr., in 1880. As the grandson of the founder, C. F. Martin Sr., Henry was the third Martin generation to own and operate the company.


The Martin Guitar Company flourished under Frank Henry, a gifted businessman committed to the strong work ethic of his father and grandfather. In the preface to the 1904 Martin catalog, Frank Henry explained to potential customers, "How to build a guitar to give this tone is not a secret. It takes care and patience. Care in selecting the material, laying out the proportions, and attending to the details, which adds to the player's comfort. Patience in giving the necessary time in finishing every part. A good guitar cannot be built for the price of a poor one, but who regrets the extra cost for a good guitar?"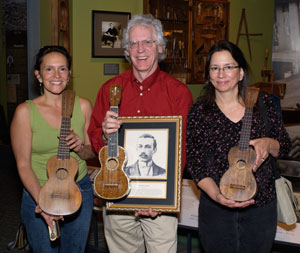 Donelle Camarillo (portrait artist, left),
and Nuni Walsh (UHoFM, right)
presenting Dick Boak of the Martin Guitar Company
with FH Martin's inductee portrait, April, 2007





Although those words were written approximately ten years before Martin ukulele production began, the huge success of the Martin Guitar Company under Frank Henry stemmed from combining this work ethic with a willingness to branch into manufacturing different instruments; first the mandolin and later, the ukulele.


Frank Henry pioneered many styles of ukulele, including the well-known style 0, style 3, and the 5K. Many players of Martin's best-selling dreadnought body guitar may not know that Martin also was making dreadnought body soprano ukuleles. Frank Henry also pioneered the development of concert and tenor sized ukuleles, and standardized the naming convention for the various sizes.


It is said that ukulele production under Frank Henry Martin is what carried the Martin Guitar Company through the lean guitar years of the 1920s and 1930s. Now operating under C. F. Martin IV and his sons, Martin Guitar Company has been continuously owned for six generations, and is acknowledged as the creator of some of the finest musical instruments.