Mystery
Mystery!
When the Ukulele Hall of Fame Museum used to publish our paper journal Uke Said It we occasionally ran a column called "Mystery!". Now we are adding a Mystery! section to our website to again discuss mysteries of the ukulele world. Whether we are discussing a little known player from long ago or trying to figured out who actually manufactured a certain brand of ukuleles, we will look to raise some questions or to shed some light on the remaining mysteries of ukulele history. We may even include some of the old Uke Said It mysteries that remain unsolved.
Who was Doc Morris?
(Click on any of the photos in the article for a larger view)
Doc Morris photo from the Gibson Ukulele Pamphlet
We recently purchased a pair of ukuleles that formerly were owned by Ralph "Doc" Morris. Never heard of Doc Morris? To be honest, neither had we. However, the collection of items found in the case of one of the ukuleles makes it clear that Doc Morris was not just your average ukulele player - he was a performer, radio personality, and ukulele teacher who was involved in the Los Angeles area ukulele scene for a number of decades.
The two ukuleles we received were a late 1940s Martin style 2 and an ukulele distributed by the Stadlmair company in the 1920s. As nice as the two ukuleles are, the other items that came in the Martin case are what really caught our attention - but we'll get back to that in a moment.
The Martin ukulele came in a well-worn case that almost certainly is older than the uke itself. It is a top-of-the-line hardshell case with a plush green interior. Neatly painted on the top of the case in large gold letters is the name "DOC MORRIS". It is accompanied by a pair of lightning bolts on each side - an electrical reference related to Morris's radio performances. Below his name are the call letters of 11 different radio stations - presumably all places where Morris had performed. These are so worn that they are barely visible and not completely legible. The Martin style 2 ukulele is a late 1940s model with the Kluson keystone tuners that only were used by Martin for several years following World War II. Two of the tuners have been replaced. The body of the ukulele is solid but has considerable playwear on each of the upper bouts. It is very obvious that Morris spent quite a bit of time playing this ukulele.
The other ukulele is a more unusual model. It is a miniature ukulele with an overall length of just over 15 inches. At first glance it seems it must be nothing more than toy, but on closer inspection it is a very well-made little instrument. These miniature ukuleles were sold as part of the "Miami" line of ukuleles and related instruments. They were referred to as "Baby" ukuleles in the Stadlmair pamphlet when they were introduced in 1924. The entire Miami line was endorsed by ES "Ukulele" Hughes. Like many of the Stadlmair Miami instruments, these baby ukuleles were manufactured by Nicola Turturro. Turturro is better known for a couple of other unusual ukuleles - the Turturro "Turnover" - a combination mandolin and ukulele, and the Turturro "Peanut Uke" with a rounded peanut-shaped back. The most amazing thing about Doc Morris's baby Stadlmair is that it is a great player. It sounds amazing tuned up about a fifth higher than a standard GCEA tuning. It is a little tricky to play with the small fingerboard, but with a little practice it really can be played well.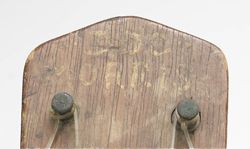 Doc Morris's Stadlmair Miami
Baby Ukulele Headstock Detail
The Miami baby ukulele clearly was not just a novelty for Morris. It is obviously well-played. He also added his name in gold letters on the headstock.
Possibly the most interesting item found inside the case is a well-worn advertising pamphlet featuring Gibson ukuleles. The pamphlet appears to be from the late 1920s or early 1930s. There is a performer featured on the cover of the pamphlet - a man wearing a suit and tie and playing what appears to be a Gibson UKE-2. The photo is captioned simply "DOC MORRIS".




1920s Gibson Ukulele Pamphlet

The pamphlet features a typical Gibson UKE-2 on the cover, one with the short 12-fret fretboard. Interestingly, the three ukulele models pictured on the back of the pamphlet all show the extended fretboard with 17 frets. The inside of the pamphlet feautures the full line of Gibson banjo-ukuleles, five models in all. Outside of the photograph caption, the pamphlet makes no mention of Morris, so we'll take a look at some of the other items in the case to try to learn a little more about him.
There were two business cards found in the case that provide the greatest amount of detail into who exactly Doc Morris was. Both give his name as E. R. "Doc" Morris. One card lists the call letters of nine different radio stations, all of which seem to have operated out of the Los Angeles area in the mid to late 1920s. This card mentions the "Daily Hot Shots" on KMIC, a show with which Morris was apparently involved.


Doc Morris' Business Card


KMIC broadcast from Inglewood from 1927 to 1930 when it changed its call letters. His contact address was the Majestic Theatre Building in Los Angeles.


Doc Morris' Business Card





The second business card may be a bit earlier. It features Morris's name and his chosen nickname: "The Duke of the Uke". The card describes Morris as a "Teacher of Ukulele and Banjo" and also offers "Coaching for Stage and Radio". It describes Morris as an "Entertainer", "Arranger", and offers "Orchestras for All Occasions".



Hollywood Citizen News Clipping

Also in the Martin case were a few items from the 1950s. A newspaper clipping from the December 9th, 1950 edition of the Hollywood Citizen-News relates that Doc Morris will be offering a series of free ukulele lessons. It mentions that Morris was one of the top arrangers of the 1920s




Doc Morris' "UKE-A-PHONIC"

Arrangement Rubber Stamp




Doc Morris' "UKE-A-PHONIC"

Arrangement Rubber Stamp


and says he is known as "The Father of the Uke".


There were also two rubber stamps in the case. One is simply a grid which can be used to add ukulele chords to music. Jim Beloff has been selling little stamps like this on his Flea Market Music website for years, but it is unusual to find one from the 1950s. The other stamp reads "UKE-A-PHONIC" arrangement by RALPH "DOC" MORRIS Copyright 1950.


We here at the Ukulele Hall of Fame Museum would love to learn even more about Ralph "Doc" Morris. If anybody reading this has any further information please go to the contact page and drop us a note.














.




Ukulele Chord Grid Rubber Stamp




Ukulele Chord Grid Rubber Stamp